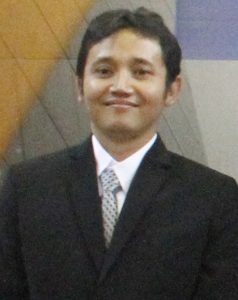 Name
:
Antonius Indarto, ST., M.Eng., Ph.D.
Assistant Professor
Email
:
antonius.indarto@che.itb.ac.id
Research Group
:
Chemical Reaction Technology and Catalyst
Field of Interest
:
1. Process Simulation and

Computational Chemical Engineering

Education
:
1. Doctor (University of Turin, Italia)
2. Master (Korea Institute of Science and Technology, Seoul, South Korea)
3. Undergraduate (Institut Teknologi Bandung, Indonesia)
Award:
Penghargaan ITB Bidang Penelitian (Penganugerahan Penghargaan ITB dalam kegiatan Dies ITB ke-58 Bidang Pengajaran, Bidang Penelitian, Bidang Karya Inovasi, dan Pengembangan Institusi), Tahun 2017.
Publication
International Journal
Neonufa, G.F., Hernas Soerawidjaja, T., Indarto, A., Prakoso, T.,"An innovative technique to suppress alkene-bond in green diesel by Mg–Fe basic soap thermal decarboxylation." International Journal of Ambient Energy, 18 November 2017, Pages 1-7. ISSN: 01430750. DOI: 10.1080/01430750.2017.1399451. Cited by 0 documents. (Scopus)
Prakoso, T., Hanley, J., Soebianta, M.N., Soerawidjaja, T.H., Indarto, A., "Synthesis of Terpineol from ?-Pinene Using Low-Price Acid Catalyst." Catalysis Letters. 8 December 2017, Pages 1-7. ISSN: 1011372X. DOI: 10.1007/s10562-017-2267-2.(Scopus 2017)
Hartanto, Y., Yaswari, Y., Zunita, M., Soerawidjaja, T.H., Indarto, A.,"Decolorization of crude terpineol by adsorption", Separation Science and Technology (Philadelphia) 52(12), pp. 1967-1972, ISSN: 01496395, CODEN: SSTED, DOI:

10.1080/01496395.2017.1313863

Sasongko, D., Rasrendra, C.B., Indarto, A.,"Fragmentation model of coal devolatilisation in fluidised bed combustion", International Journal of Ambient Energy pp. 1-8, ISSN: 01430750, CODEN: IJAED, DOI:

10.1080/01430750.2017.131878

Sasongko, D., Nugraha, N.B., Rasrendra, C.B., Indarto, A.,"Simulation of temperature and reaction time prediction of the torrefaction process: case of hard-wood biomass." International Journal of Ambient Energy 6 January 2017, Pages 1-9. ISSN: 01430750. DOI: 10.1080/01430750.2016.1269681. Cited by 0 documents (Scopus)
Antonius Indarto, Anggit Raksajati, "Influence of Solvent Degradation to the CO2 Absorption." Separation Science and Technology. (submitted) 2017
Sasongko, D., Arifpin, N.Y., Rasrendra, C.B., Indarto, A., "Numerical simulation of coal pyrolysis with Tar and Gas products prediction", Asia-Pacific Journal of Chemical Engineering, Volume 11, Issue 2, 1 March 2016, Pages 220-228, 2016. (Scopus)
Indarto, A., "Partial oxidation of methane to methanol with nitrogen dioxide in dielectric barrier discharge plasma: Experimental and molecular modeling", Plasma Sources Science and Technology, Volume 25, Issue 2, 27 January 2016, Article number 025002, 2016. (Scopus)
Widodo, A., Sujatnika, Y., Awali, D., Prakoso, T., Adhi, T.P., Soerawidjaja, T.H., Indarto, A., "Thermal heat-free regeneration process using antisolvent for amine recovery", Chemical Engineering and Processing: Process Intensification, Volume 89, March 01, 2015, Pages 75-79, 2015. (Scopus)
Indarto, A., "Methanol synthesis from methane and oxygen with [Ga Cr]/Cu-Zn-Al catalyst in a dielectric barrier discharge", Ionics, Volume 20, Issue 3, March 2014, Pages 445-449, 2014. (Scopus)
Qirom, M., Indarto, A., Putrawan, I.A., "Case studies thermal analysis of HP condensate stabilizer column", Applied Mechanics and Materials, Volume 493, Pages 27-32, 2014. (Scopus)
Handy, H., Santoso, A., Widodo, A., Palgunadi, J., Soerawidjaja, T.H., Indarto, A., "H2S–CO2Separation Using Room Temperature Ionic Liquid [BMIM][Br]", Separation Science and Technology (Philadelphia), Volume 49, Issue 13, Pages 2079-2084, 2014. (Scopus)
Maranzana, A., Giordana, A., Indarto, A., Tonachini, G., Barone, V., Causà, M., Pavone, M., "Density functional theory study of the interaction of vinyl radical, ethyne, and ethene with benzene, aimed to define an affordable computational level to investigate stability trends in large van der Waals complexes", Journal of Chemical Physics, Volume 139, Issue 24, 28 December 2013, Article number 244306. (Scopus)
Palgunadi, J., Indarto, A., "Retraction notice to Room Temperature Ionic Liquids for Propyne-Propylene Separations: Solubility Behaviors and Selectivity Investigation [Chem. Eng. Sci. 66 (2011) 6039-6047]", Chemical Engineering Science, Volume 91, 2013, Page 226, 2013. (Scopus)
Indarto, A., Palgunadi, J., "

Syngas: Production, applications and environmental impact

(

Book)", Syngas: Production, Applications and Environmental Impact,

pp. 1-365, 2013. (Scopus)
Indarto, A., Palgunadi, J., "

Introduction: Syngas era and energy issue

(Editorial)", Syngas: Production, Applications and Environmental Impact, pp. ix-xv, 2013. (Scopus)

Maranzana, A., Indarto, A., Ghigo, G.,Tonachini, G., "First carbon ring closures started by the combustive radical addition of propargyl to butadiyne. A theoretical study", Combustion and Flame, Volume 160, Issue 11, November 2013, Pages 2333-2342. (Scopus)
Christian, F., Edith, Selly, Adityawarman, D.,Indarto, A., "Application of nanotechnologies in the energy sector: A brief and short review", Frontiers in Energy, Volume 7, Issue 1, 2013, Pages 6-18. (Scopus)
Indarto, A., "Heterogeneous reactions of HONO formation from NO 2 and HNO 3: A review", Research on Chemical Intermediates, Volume 38, Issue 3-5, March 2012, Pages 1029-1041. (Scopus)
Indarto, A., "Decomposition of dichlorobenzene in a dielectric barrier discharge", Environmental Technology, Volume 33, Issue 6, 1 March 2012, Pages 663-666. (Scopus)
Palgunadi, J., Winoto, H., Indarto, A., "New TSILs containing amino group for CO 2 capture produced from simple reaction paths", Chemical Engineering Journal, Volume 184, 1 March 2012, Pages 298-302. (Scopus)
Indarto, A., Palgunadi, J., "Prediction of binding bond energy between phosphorous-based ionic liquids and CO 2. Assessment of the CO2-anion interactions", Ionics, Volume 18, Issue 1-2, January 2012, Pages 143-150. (Scopus)
Palgunadi, J., Indarto, A., "Room temperature ionic liquids for propyne-propylene separations: Solubility behaviors and selectivity investigation", Chemical Engineering Science, Volume 66, Issue 23, 1 December 2011, Pages 6039-6047. (Scopus)
Indarto, A., "Interaction between methyl and hydroxyl radicals: A theoretical study", Research on Chemical Intermediates, Volume 37, Issue 1, January 2011, Pages 69-77. (Scopus)
Indarto, A., Giordana, A., Ghigo, G.,Maranzana, A., Tonachini, G., "Polycyclic aromatic hydrocarbon formation mechanism in the "particle phase". A theoretical study", Volume 12, Issue 32, 28 August 2010, Pages 9429-9440. (Scopus)
Indarto, A., Giordana, A., Ghigo, G., Tonachini, G., "Formation of PAHs and soot platelets: Multiconfiguration theoretical study of the key step in the ring closure-radical breeding polyyne-based mechanism", Journal of Physical Organic Chemistry, Volume 23, Issue 5, May 2010, Pages 400-410. (Scopus)
Indarto, A., "Soot growth mechanisms from polyynes", Environmental Engineering Science, Volume 26, Issue 12, 1 December 2009, Pages 1685-1691. (Scopus)
Indarto, A., Choi, J.W., Lee, H., "xidation of chloroform in a gliding-arc plasma: Observation of molecular vibrations", IEEE Transactions on Plasma Science, Volume 37, Issue 8 PART 2, 2009, Pages 1526-1531. (Scopus)
International Proceeding
Indarto, A., "High yield methanol synthesis with Cu-Zn-Al catalyst in DBD: Experimental & thermochemsitry", IEEE International Conference on Plasma Science, 2009, Article number 5227494, 2009 IEEE International Conference on Plasma Science – Abstracts, ICOPS 2009; San Diego, CA; United States; 1 June 2009 through 5 June 2009; Category numberCFP09ICO; Code 78121. (Scopus)